Taking the current pandemic situation into consideration, there are thousands of products purchased and sold online daily on various eCommerce platforms. In this COVID-19 situation designing an online website is not the only task; but, it should be more creative, informative, and ideally suitable for the visitors. A good eCommerce website will effectively convert its visitors into customers by adding more sales, profits, and web rankings.
Website designing is critical while implementing an eCommerce website. To get a decent eCommerce web design, all it includes is the right selection of colors, words, fonts, images, and graphics. The presence of your eCommerce website should attract potential customers and provide them with experience and solutions. eCommerce Website Development should go through points such as proper navigation, customer-focused content, website security, determining goals, and outlining budget.
Following are some tips and ideas for eCommerce Website Design that will help bring you sales:+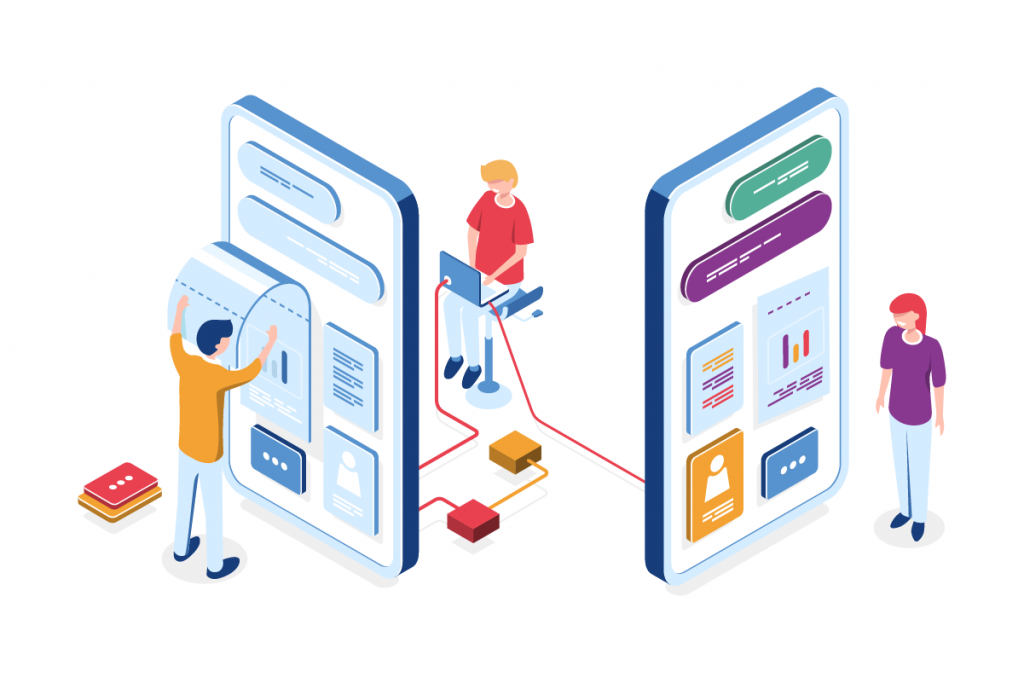 1. Think Like a Customer:
While designing an eCommerce website, the first thing you need to consider is to think like a customer. This will help to get solutions to different subjects like
– How is the appearance of the overall web layout?
– Is it easy to find the required information quickly?
– Does the search bar provide a direct visit to the product/service?
– Is the product/service description clear?
– Is the process of purchasing and checkout page easy to understand?
Meeting these common requirements anticipates purchases and ends with having customers review.
2. Minimum choices:
Keep your website convenient for easy navigation, filtering catalogs, and searching for products/services. The website should emphasize the interest of targeted visitors. The more minimal & clean your website is, the more it will look proficient, responsive, and organized.
3. Brand Highlight:
Branding is one of the important sources while designing a website for selling products/services. It is studied that consistent branding increases sales and profits. Using digital marketing for branding across the web will make your business more interesting and likable. There are few ways to highlight your brand; social-media marketing, email marketing, and content marketing.
4. Play with Colors, Photo Gallery, Videos:
Add a page that describes your agenda of marketing in the simplest way possible.
–      Colors: Colors are said to inspire emotion psychologically. The impact of definite colors produces certain feelings in mind of the targeted audience that will help them to finalize their opinions. About 70% of online sales are dependent on colors.
– Photos: Uploading high-resolution products images is the best solution for grabbing the attention of visitors. Photos create an overall identity of brand and services that charms the attention of viewers and eventually increases sales.
– Videos: Videos are meant to represent the complete visual idea on how your website works? What products/services are offered? etc. Adding videos that provide 360-degree views and 3D models on products/services increases the rate of marketing.
5. Responsive Content:
Content should be in a precise, user-friendly & descriptive manner through which the viewer is directly communicated to the product/service. Content is responsive when it is designed with perfect font, size, proper positioning, and layout.
6. Effortless Checkout:
Customer always want easy and secure checkout options. Lots of steps and hidden charges create the negative impact and increase chances to exit the customer without shopping. Checkout should be easy to navigate, as more scrolling or steps will lose the interest of customers. The shopping cart should have all required information like shipping, return & refund policy, and security.
7. Mobile Friendly:
Shrink your desktop site to a mobile friendly site! Nowadays, most people use mobile phones for their shopping. For this, it is necessary that your website should be fully-functioning on small screens in a fluid way with easy & simple browsing.Fewer clicks through links and buttons will grab more viewers. Ensure that all pages are self-explanatory and there is enough information to display.
Moreover, to these tips, you can even add various options like rewards, share buttons, blogs, client reviews, order history and more that give a glimpse of your business. With the help of the share button, visitors/customers can share your product with their families and loved ones. This approach will help to wide-spread your business in the online market. The designs in Web development are landscapes that keep on changing and updated. You must understand the content patterns, user behavior, and trends to follow that give you the power to further improve your businesses.
Attract more customers efficiently by designing the website in such a way that it is clean & simple to roam around and has a link back to visit the previous product page on the website. Before designing your website, you can visit a few of your favorite online sites that can help to feature some style in your eCommerce website. Keep on upgrading your website on the basis of aspects that are changing around you. Design the website in a way that converts window shoppers into your happy customers!